Hello everyone! 
I know it's been some time since I have posted here.  There have been lots of things changing.  Events being canceled or postponed,  lots of commission work and new pieces that have been added.  Whew!  
One thing on the horizon that I am extremely excited about is the upcoming show 'Happy Distraction' with the very talented Fletcher Stafford on Oct 7th at the Mid Main Gallery in Midtown Houston.  I hope all you locals can make it out it's going to be a fun evening. But even if you don't live in Houston you can participate in the gallery showing and purchase pieces. My work is slightly discounted and you would have to pay for shipping to your home if you are not local.  If you would like more information and photos of items etc... you can contact myself at leslie@ldehavenfinearts.com or Laurie Mills at lauriemills@me.com 
Below is the press release for the show!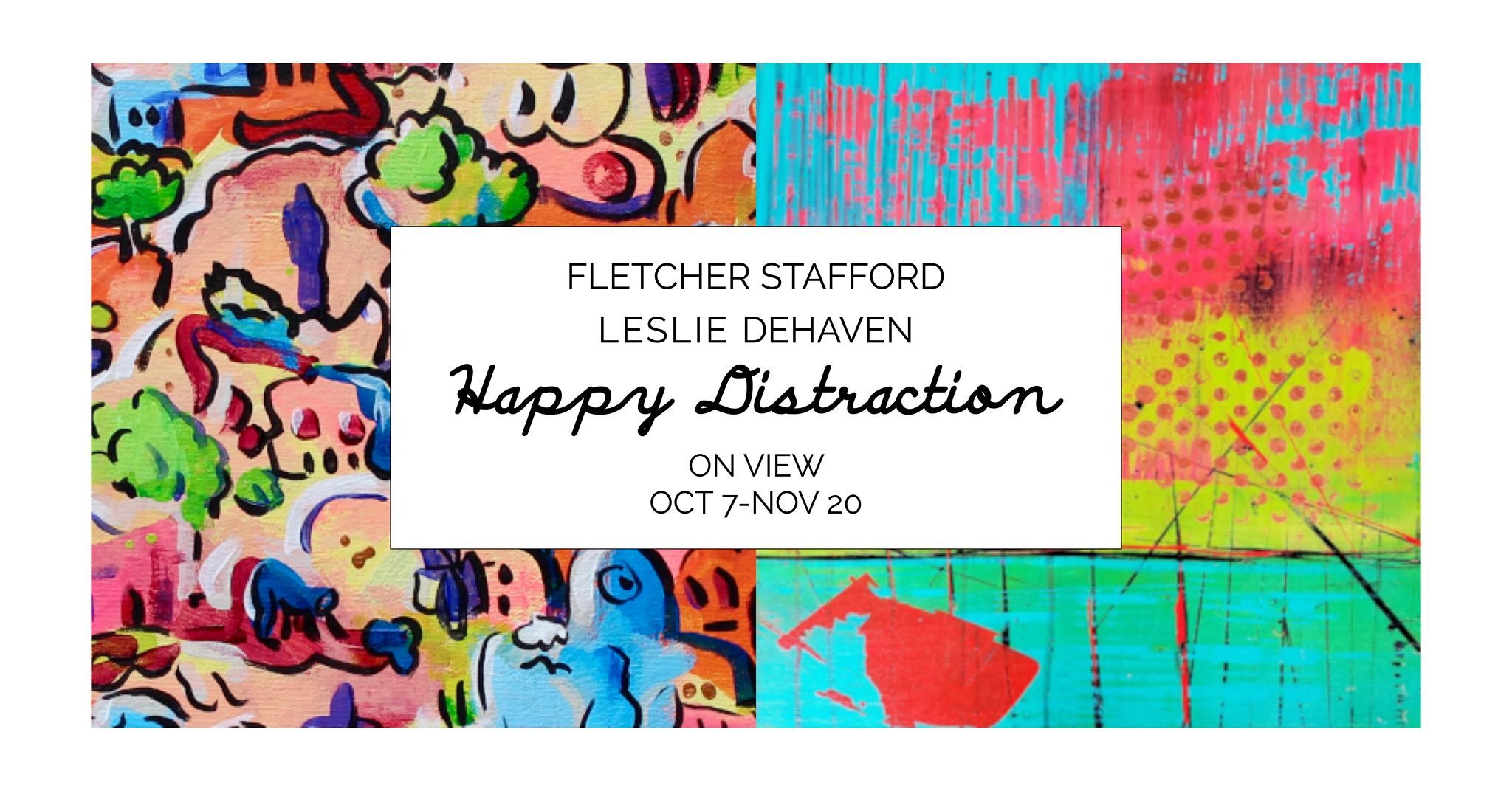 Mid Main Lofts 
Duration: 3 hr 
Public  · Anyone on or off Facebook 
Fletcher Stafford and Leslie DeHaven: "Happy Distraction" 
October 7 through November 21, 2021 
Opening Reception: Thursday, October 7, 2021, 6 to 9 pm 
Mid Main proudly presents Fletcher Stafford and Leslie DeHaven in their joint exhibition "Happy Distraction". This show highlights both artists individually as they come together and find similarities in their approach towards life reflected in their artwork. Mid Main is excited to welcome back Fletcher for the third time since his previous show in 2020 and also showcase Leslie's work for her debut in the gallery space. Come celebrate the opening in conjunction with Mid Main's First Thursday event on October 7, 2021 from 6 to 9 pm benefitting Second Servings Houston. Masks are strongly encouraged inside the gallery. 
Fletcher Stafford, a native Houstonian, first showed in the Mid Main Gallery in 2019 with the HISD Visual Art Teacher Exhibition and then returned for a solo show Innocent Fascination in 2020. If asked, Fletcher will say he has been making art for as long as he can remember. As a child, he would get lost in his own little world when given a paper and pencil. His grandmother and parents encouraged his pursuit as an artist at a very early age and gave him a life-long joy for creating. Over the past 22 years, Fletcher has evolved as an artist and participated in many exhibitions around Houston. His free approach to creating is truly reflected in the colorful and whimsical aspects of his artwork and specifically his painting. In addition to being an artist, Fletcher is a devoted husband, a father of two boys and a beloved elementary art educator. He also enjoys expressing himself in other artistic mediums as both a poet and a musician. 
Leslie DeHaven shares a similar background as Fletcher, in that she is also a "born artist". As a child growing up in the Southern Puget Sound, she was heavily involved in photography and learned the art of dark room film development. After receiving several awards in photography contests, Leslie branched out into painting murals and working with ceramics. 
As a musician, Leslie performed percussion and woodwinds with bands around the Santa Cruz, CA area, which segued into a career as an artist and tour management. Touring 46 states and 6 countries around the world broadened her scope and introduced her to local cultures and art wherever she visited. Since the pandemic, Leslie has channeled her creativity toward new mediums as an artist, including painting with acrylics on canvas. Leslie's abstract paintings speak to people's emotions and sensitivities through her own reawakening of creativity. 
The opening reception on October 7, 2021 is free and open to the public. All other visits are by appointment only. Please contact Laurie Mills at 713.385.6693 or lauriemills@me.com to schedule a visit or for more information about the exhibition.